Flow Diagram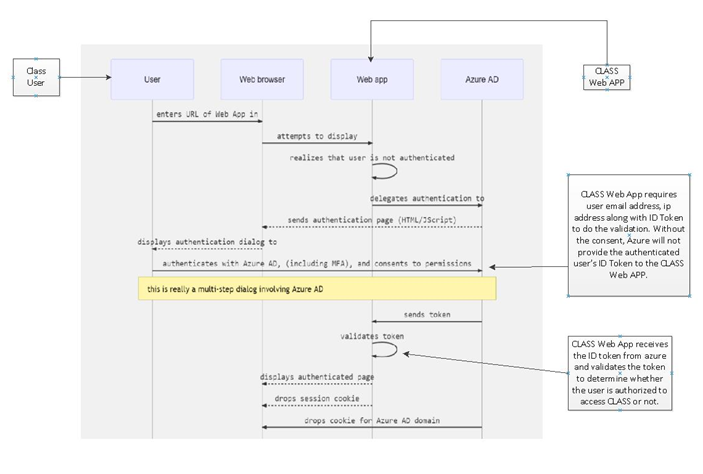 Alternatives to Azure Active Directory
At this stage Azure Active Directory is the only supported authentication method into CLASS.
Some other identity platforms such as Google may allow you to perform a sync from their directory to your Azure Active Directory with an integration and you should work with your IT professional to work through this.

Multifactor Authentication
Azure Active Directory supports a number of different additional security factors, and you can even implement your own temporal one time token generator.
We do not advocate for one method above another, but we strongly recommend all users who have access to sensitive information or who have email accounts are secured with at least one additional authentication factor.

Tenant and User Setup
Azure Tenants
Each CLASS Centre Database can be configured to receive user information from only one Azure Active Directory tenant
The same Azure Active Directory tenant can be used across multiple CLASS Centre Databases – for example, if you are one organisation with multiple databases in CLASS.
Each Azure tenant to be used with CLASS must grant consent to the CLASS AAD Enterprise Application – this grants the CLASS application to request an access token for a specific user after a login attempt is made, alongside their user principal name and IP address.
An Organisation with an Azure account can create multiple tenancies, although additional tenancies will usually just be on the free tier without purchasing additional licensing.
Tenancies on the free tier who implement MFA will be restricted to the Azure Authenticator App.

Azure User Types
Azure has two main types of users:
Member Users – these are users created inside the tenant and the tenant has full control over access policies. They may or may not have licenses to full Azure Active Directory features or other Microsoft Cloud Platform products that have been purchased by the Centre.
Guest Users – these are users who exist in another tenant and have been invited by your organisation to have access to some level of B2B collaboration.
Whether a user is a member or guest, and if a member user is unlicensed or not can have a few impacts on CLASS access.

Member Users
A member user who is under an appropriate Azure Active Directory License:
Will usually be the primary way a user accesses Azure Active Directory and therefore will probably have the easiest time accessing CLASS.
Is eligible to require multifactor to be setup to access CLASS regardless of the security policy the Centre adopts.
A member user who is not under an appropriate Azure Active Directory License:
Will usually be either a volunteer or a secondary login for someone who needs to access multiple CLASS databases.
Is only eligible to require multifactor to be setup to access CLASS if your tenant uses the security defaults.

Guest Users
A guest user:
May come from another Azure tenant, or possibly from a consumer identity source – such as a personal Outlook account.
Will authenticate using the UPN from their source tenant, and should therefore be created in CLASS with the source tenant UPN as its username.
May be used to grant external organisations temporary access to CLASS for collaboration (such as cross checks).
May also be used as a way to allow a user to sign into an alternative tenant using an account they are familiar with – for example, if you create a secondary tenant to setup CLASS as you do not wish to support our Enterprise Application in your main tenant, you could invite your users as guest users into that tenant in order to allow them to log into that tenant with familiar credentials.

Note that usernames must be unique across all of CLASS so if someone is already accessing another CLASS database using their email, you will get an error if you try and create a CLASS account with the same email after inviting them as a guest user.