Yarning cards for e-safety for Aboriginal and Torres Strait Islander women
Family Violence Legal Service Aboriginal Corporation of South Australia
October 2022
In 2021 the Family Violence Legal Service Aboriginal Corporation of South Australia (FVLSAC) won a grant from the Office of the eSafety Commissioner to adapt information about technology-facilitated abuse to be culturally appropriate for Aboriginal and Torres Strait Islander women across the service areas of Port Augusta, Whyalla, Port Lincoln, Ceduna and surrounding regions 
FVLSAC consulted widely with community members to ensure the ideas of Aboriginal women were incorporated into the project. The result is a set of fourteen unique 'yarning cards' designed for women to use in group settings.  Each session will be led by a facilitator who will use a set of detailed notes to guide a discussion.  Topics include threats and harassment, stalking, monitoring and tracking, image-based abuse, impersonation and fake accounts, and withholding or damaging devices. The cards also focus on how to get help and support with reporting and addressing abuse.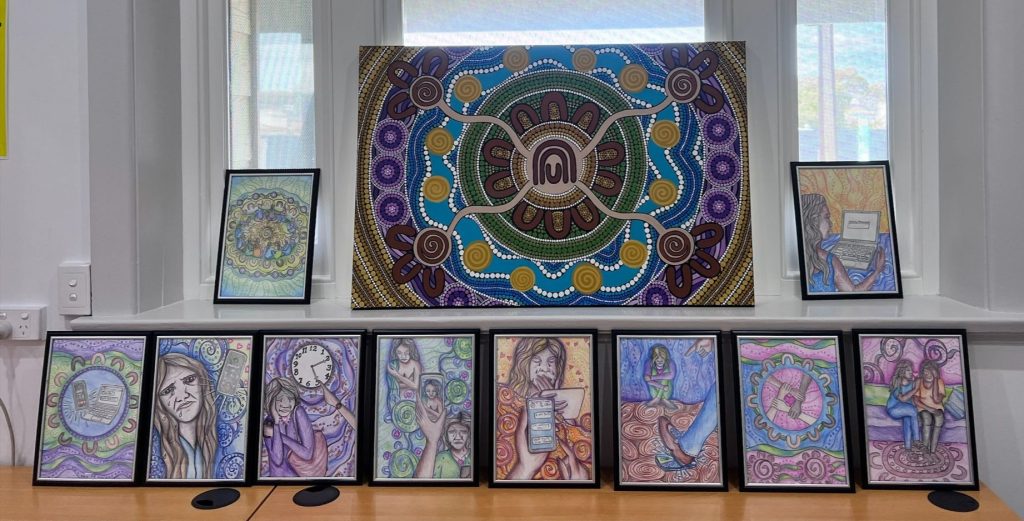 Port Lincoln Aboriginal artist Susan Betts created fourteen colour pencil drawings for the yarning cards. Delise Sampson, another Aboriginal artist from Port Lincoln, created an oil painting called Our Journey Through Healing, which is featured as a unifying theme throughout the yarning cards and facilitator's notes.
FVLSAC plans to feature the yarning cards at the upcoming Sista 2 Sista events to tie in with this year's theme of eSafety.