New Q+Law service – Legal help by and for the LGBTIQA+ community
September 2023
Wonderful news for LGBTIQA+ people in Victoria: there is a new free legal service just for you! Q+Law is a peer-led service that is a safe entry point for LGBTIQA+ people in Victoria to seek free legal advice.
Amongst the glitter and rainbows, sandwiched between talented artists and tastemakers at Drag Expo Melbourne, the community could find members of the Q+Law team. Khoi (he/they) and Beth (they/them) were there to share the wonderful news of a brand new free legal service for Victorian LGBTIQA+ people.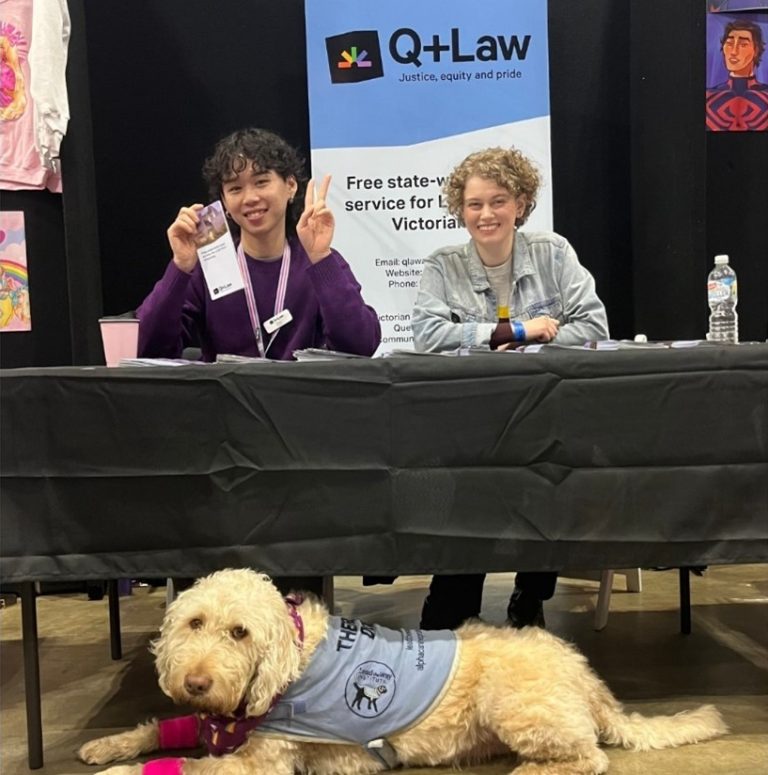 Khoi and Beth chatting to the community about Q+Law at Drag Expo Melbourne 2023
I am grateful to be present at the Drag Expo – it is brimming with love and queer joy. I had the opportunity to speak to people from all walks of life and share information about our service. I, for one, find it important to understand my legal rights as a queer person of colour and I hope that other LGBTIQA+ Victorians out there feel empowered knowing that Q+Law is available should they ever need free legal help.

– Khoi
Q+Law is peer-led and came to fruition through a partnership between Fitzroy Legal Service and Queerspace. Q+Law aims to be a safe entry point for LGBTIQA+ people in Victoria to seek free legal advice.
The legal profession can often lack understanding of the experiences of the LGBTIQA+ community. Q+Law seeks to bridge this gap through providing training opportunities and legal service by lawyers who are themselves part of the LGBTIQA+ community. Get to know the team here.
Q+Law can help with a range of legal issues, including:
Discrimination, harassment and violence on the basis of LGBTIQA+ identity
Administrative law, such as name changes on identification documents
Criminal law
Family violence
Employment law
Tenancy law
Complaints about health and community services
Q+Law also provides ongoing legal assistance and representation on a case-by-case basis.
If someone needs help with something outside of the scope of the service, Q+Law works to refer to a safe and specialist service that can meet the person's legal needs.
You can find Q+Law at the Victorian Pride Centre in St Kilda, or at one of their outreach locations with partner organisations at Queerspace in Carlton and Your Community Health in East Reservoir.
Contact Q+Law
Social media: Instagram, TikTok and Twitter.
Email: qlawadmin@fls.org.au
Phone: 03 9968 1002