Hotel Grand Chancellor
Hotel Grand Chancellor is in the heart of Hobart, overlooking the harbour.
You can find information on how to get there, available facilities, and answers to other common questions on their FAQs page.
Parking is available at the conference venue and at nearby parking facilities. 
For everything you need to know about the National Conference 2023 venue, a purpose-built conference facility located at the Hotel Grand Chancellor itself, head here: https://www.hcecgrandchancellor.com/
A venue floorplan is available here, that shows where you'll find the National Conference 2023 registration desk, plenary and breakout room, Conference Dinner venue and more.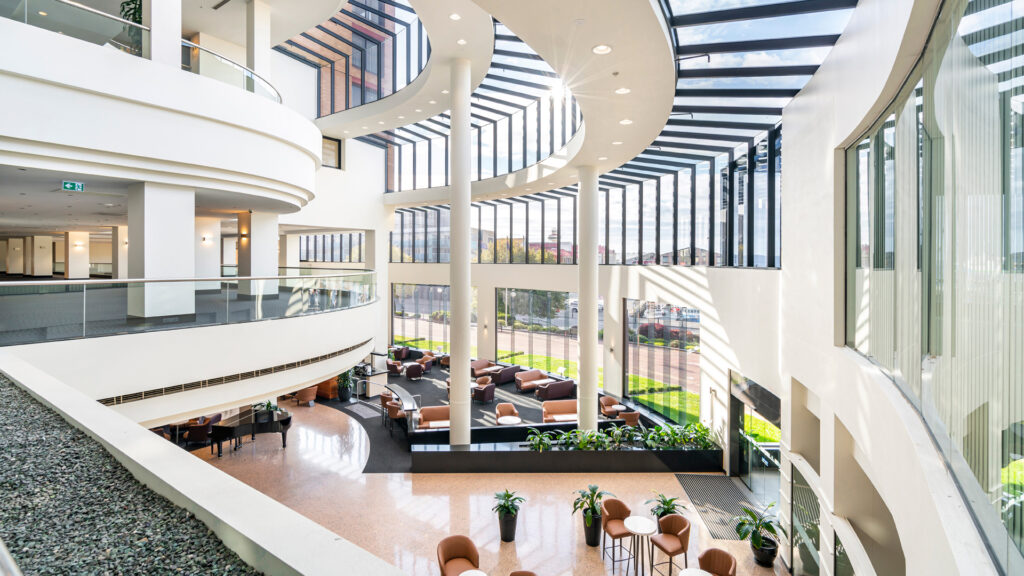 CLCs Australia is committed to making sure National Conference 2023 is an accessible event. Visit our accessibility page for information about the Hotel Grand Chancellor and who to contact if you have further questions.
Gender diversity and inclusion
There are no unisex bathrooms at Hotel Grand Chancellor. All are identified as male or female, including accessible bathrooms. Bathrooms are reserved for use by National Conference 2023 delegates only. These bathrooms will have signs indicating what facilities are available inside on the door (I.e., stalls and sanitary bins, or stalls and urinals).
CLCs Australia supports LGBTIQ+, transgender and gender diverse delegates to use the bathroom you feel most comfortable in. We ask all delegates to respect each other and allow everyone to use the bathroom of their choice in peace. 
All speakers must check in to the speaker prep room (Chancellor Room 4) at least 2 hours before your session starts to check presentations can be opened, loaded quickly, and are networked to the conference AV network and correct room.
You will be able to view and edit your presentation (or do a last-minute upload) before your session.
AV staff and conference organisers from Think Business Events will be available in the speaker prep room to help you finalise and preview your presentation before your session.
The speaker prep room will be open:
Wednesday, 22 March: 8am – 5pm
Thursday, 23 March: 8am – 3pm
Registration and information desk
The Registration desk will be located on the Mezzanine level and will be open during the following times:
Tuesday 21 March – 2:00 pm to 6.00 pm
Wednesday 22 March – 8:00 am to 5:00 pm
Thursday 23 March – 8:00 am to 4:00 pm
You are encouraged to pick up your name badges on Tuesday 21 March from the Registration desk.
To pick up your badge, simply show the personalised QR Code that you will receive via email on Monday 20 March 2023. You can either print the email and bring it with you or have it ready on your phone and scan it on arrival.
Friendly staff will be on hand during the opening hours advised above, to answer your questions and provide information about the Conference, venue and surrounds.
If you have any changes to your registration, please advise the staff at the Registration Desk. Please note that any changes to your registration onsite may incur administration fees.
Each in-person delegate registered for the Conference will receive a name badge upon arrival. This badge will be your official pass and must be worn to obtain entry to all sessions, exhibition, catering and events.
Please note the below symbols that will appear on your name badge (if you have booked for that event).





The National Community Legal Centres Conference 2023 Code of Conduct reflects our values of respect, inclusion, diversity, integrity, and courage.  
We value the participation and contribution of all people taking part in our conference and want to create a safe and inclusive environment. 
Please read our 2023 Code of Conduct, to fully understand our commitment to you and your commitment to your fellow delegates. 
Some conference sessions will include potentially distressing content, including Aboriginal over-incarceration and deaths in custody, domestic and family violence, discrimination against LGBTIQ+ people and people with disability, and police brutality.
Please feel free to approach CLCs Australia staff (who will be wearing red lanyards) if you feel overwhelmed or need support.
Delegates are also welcome to use the quiet Space (please see below) to regroup and debrief with trusted colleagues after challenging or triggering sessions.
Crisis support is available from services like:
There is a quiet Space available (Chancellor Room 6) for delegates to relax, unwind, regroup, and debrief after challenging sessions. You are encouraged to use this space to meditate, pray, stretch, draw, or debrief conference sessions that have been challenging or triggering for you quietly in small groups. The quiet Space is a work – and device-free zone. Please avoid working on laptops, taking phone calls, holding work meetings, and having loud, casual conversations in this area. 
Please note the quiet Space will be unavailable to delegates from 2pm – 4pm on Thursday, 23 March, when it will become a rehearsal space for the Rebus Theatre performers to prepare for the Just Hearing session. 
Conference organisers
If you need help, your first port of call is the Registration Desk.
Our conference organisers, who'll be wearing orange t-shirts, will be at the registration desk and can help with questions about check-in, registration, uploading or editing presentations, AV and equipment, social events, and other general conference enquiries.
CLCs Australia staff
CLCs Australia staff will be wearing red lanyards. They can help with information about sessions and speakers, or if you need to raise any concerns about inappropriate conduct or any other matters.
Sexual harassment officers
If you experience or witness sexual harassment at National Conference 2023, you can approach any of our three nominated Sexual Harassment Officers who are available to discuss any issues of sexual harassment. They will be wearing blue lanyards and their names are: 
Anna Cody, CLCs Australia Chair

 

Arlia Fleming, CLCs Australia Board Member

 

Catherine McMorrine, CLCs Australia Board Member.

 
If you need to speak with a Sexual Harassment Officer, but can't find one, please approach a CLCs Australia staff member who will be able to help you. 
Events in Tasmania are no longer regulated by specific COVID-19 public health guidelines. However, COVID-19 continues to circulate in the community and Community Legal Centres Australia is committed to promoting COVID-19 safety at National Conference 2023.
We ask that all delegates to act in a way that reduces the chances of COVID-19 spreading at National Conference 2023 by:
Staying home if you are unwell or have COVID-like symptoms
Leaving the event if you become unwell or develop COVID-like symptoms
Where possible, keeping some distance from other people or social groups
Washing and sanitising your hands (sanitiser will be available throughout the venue).
You are also welcome to wear a face mask, which can reduce the risk of catching or spreading COVID-19 when space is limited.